Minnetonka Home Lawn Sprinkler Irrigation System
Installation Of Minnetonka Lawn Sprinkler Irrigation Systems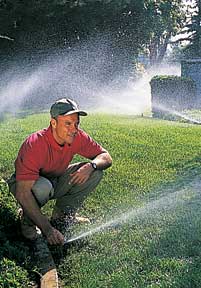 Upper Mississippi Irrigation is your experienced choice to install a lawn sprinkler irrigation system in Minnetonka. For more than 30 years we have been installing lawn sprinkler systems which help Minnetonka homeowners protect their landscaping investment.
Our wealth of experience and knowledge ensures lawn sprinkler irrigation systems are installed correctly and to last in your Minnetonka home.
Winterizing Your Minnetonka Lawn Sprinkler Irrigation System
Winterizing lawn sprinkler irrigation systems in Minnetonka ensures the system is protected from winter weather. The process requires removing all water from the lawn sprinkler irrigation system, including correctly dealing with backflow preventers.
There are multiple methods for winterizing lawn sprinkler irrigation systems, but having a professional prepare your lawn sprinkler irrigation system ensures it is done correctly.
Spring Startup Of Minnetonka Lawn Sprinkler Irrigation Systems
While winterizing your Minnetonka lawn sprinkler irrigation system protects it from damage due to freezing weather, care must also be taken when starting up your system in the spring. Upper Mississippi Irrigation contacts its past customers to help them ensure Minnetonka lawn sprinkler irrigation system is started up correctly in the spring.
There are several steps to ensure the system is prepared correctly to start up in the spring and to ensure the steps are done correctly and in a timely manner Upper Mississippi offers a special on a spring tuneup.
Repair Of Minnetonka Lawn Sprinkler Irrigation Systems
Upper Mississippi Irrigation is expert at troubleshooting and identifying problems with lawn sprinkler irrigation systems whether we installed it in your Edina home or not. Our experience ensures repairs made are necessary, thorough and complete.